Wi-Fi: Enabled, Bridged – What Does It Mean?
If you have a wireless network card in your computer (laptops always have one) and you open the Network connections (press Win+R, type ncpa.cpl and hit Enter), you may see Enabled, Bridged under your Wi-Fi connection. Moreover, you will probably see Not connected in front of IPv4 and IPv6 protocols if you double-click it: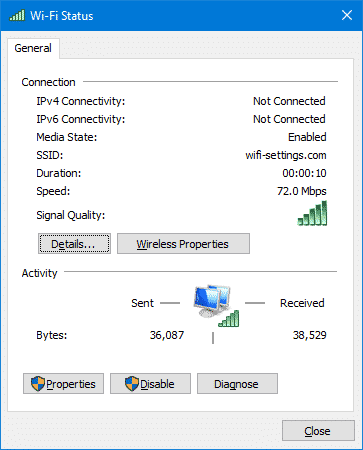 This basically means that your PC's Wi-Fi adapter is connected to a Wi-Fi network and another network adapter of your computer is bridged to your wireless connection.
The most common example is when you have a Hyper-V configured to bridge your virtual machines to your wireless connection.

You may want to configure your network settings that way if you are using a Wi-Fi connection to connect to the Internet on your management host and wish your virtual machines to be accessed remotely from the Internet.
Thus, we can come to a conclusion that Enabled, Bridged actually means Connected and Bridged. If you disable bridging, you will see your Wi-Fi network name instead of Enabled bridged:

How to Remove a Network Connection from Bridge in Windows 10
If you try to change some settings of the connection with "Enabled, Bridged" label you will fail. You will see this window proposing to configure the adapter's settings but not the settings of the network connection itself: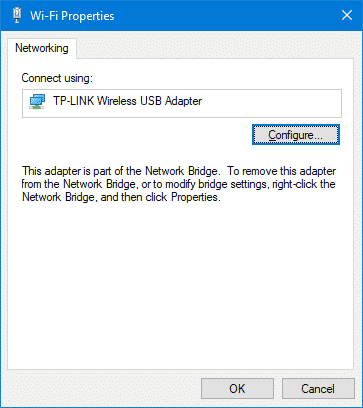 You should remove a network connection from bridge to be able to modify its settings – for example, to manually assign a static IP-address, change DNS server IP or disable IPv6. All you need to do to edit settings I mentioned above is right-click the connection and select Remove from Bridge: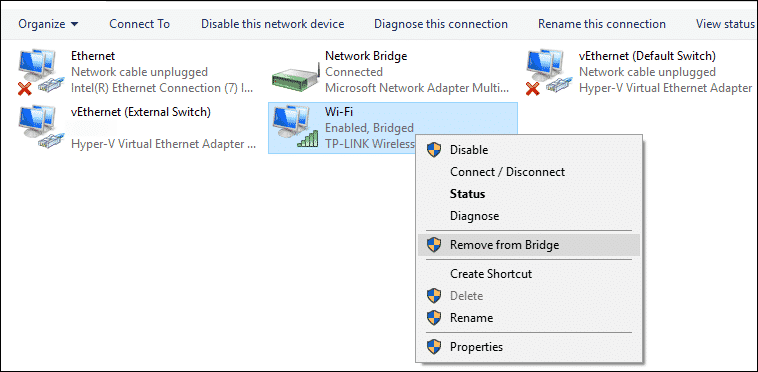 Now you can double-click it again, change settings like you usually do and then click OK to save them.
If Using Hyper-V on This PC
Please, keep in mind that removing a network connection from bridge will likely destroy your virtual machines connectivity. You will have to configure your virtual network switches in Hyper-V manager from a scratch.
That's it! Please, share this article if you found it useful. Thank you and good luck!