How to configure and use the Mobile Hotspot feature on Samsung Galaxy S10/S10+/S10e/Note 20, Note 10 on Android 10 Q and Android 9 Pie and make your mobile phone act as a wireless router for sharing the Internet.
As every other Android device Galaxy S20, S10 as well as Note series have a built-in Mobile Hotspot feature that allows you to use your phone as a Wi-Fi router and share your cellular Internet connection (mobile data) to any device around you.
In such a way you can provide Internet to your laptop, desktop with a wireless adapter or any mobile gadget such as iPhone, iPad or another Android device. This can turn out to be extremely cool when your ISP is down or you are somewhere in the wilderness.
Contents
How to Configure a Mobile Hotspot on Samsung Galaxy S20, S10, Note 20, Note 10
Pull down the shade and look for a Mobile Hotspot tile in quick toggles. If such tile is missing you can easily add it, that we highly recommend to do.
Long tap on the Hotspot tile in Quick toggles area – the Mobile Hotspot settings will open.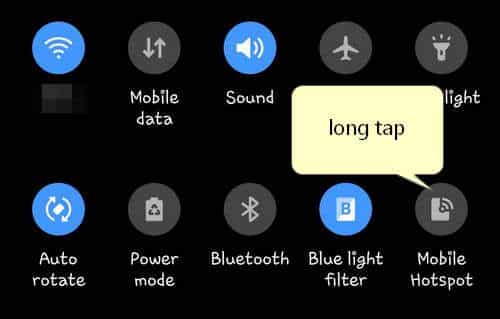 You can also go to Settings > Connections > Mobile Hotspot and Tethering and tap on Mobile Hotspot item if you're not looking for easy ways.
Either way, you should now find yourself in its settings. Here is what you do further:
Tap the three-dot icon in the upper right corner of the screen and select Configure Mobile Hotspot:
First, pick a cool name for your access point or leave it as is to tell the world you are the proud owner of Galaxy S10.
Leave Hide my device deactivated as it is by default if you want other devices to see your SSID (Wi-Fi name). If you wish to hide your network name, feel free to enable the option. In this case everybody will have to correctly type your SSID and only then a security key to be able to connect to your AP.
Be sure to choose WPA2-PSK in the Security setting.
Avoid selecting "Open" if possible because it can share your cellular data with everybody around and you will run out of your traffic cap much faster than you can imagine.
Now specify a strong password that nobody should be able to guess.
The Power saving mode and PMF on are disabled by default. Leave them as is. However, you may test your hotspot with Power saving mode enabled if you are planning to share the Internet for a long period of time. Just remember about this option and turn it off if the speed is low or something goes wrong (for example, if some devices fail to connect).
The last thing you do is press Save.

Extra Settings
These settings are not crucial if are untouched. However, if you believe that you could change them before you'd better check them.
Timeout
You can specify a timeout (a period of time your Galaxy S10 will keep the Mobile hotspot enabled). Tap the three dots and select Timeout Settings.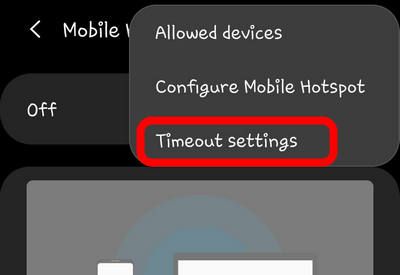 In most cases the Wi-Fi hotspot works for a short period of time. So you can leave its timeout set by default. If you are eager to distribute Internet for hours, select Never timeout. Long story short, select the desired value.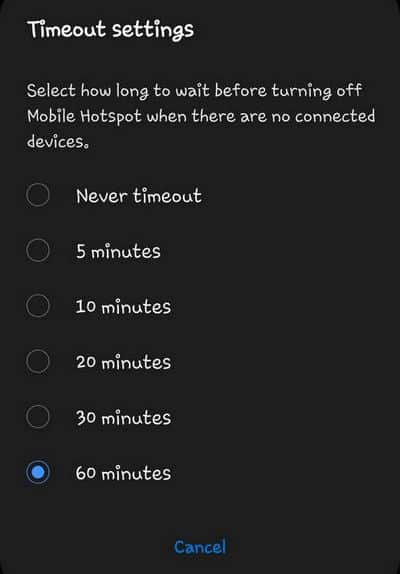 Allowed Devices
This option allows to ban the access to your hotspot for all clients except devices you choose. It acts as a white list. If you wish to use it you will need to add trusted devices using their names and MAC-addresses. If you don't understand what I am talking about, just don't activate the Allowed Devices option.
Wi-Fi Sharing
Wi-Fi sharing is an option designed to share your Wi-Fi connection. In other words, you can configure your Galaxy to connect to the Internet using Wi-Fi and share it over the hotspot instead of sharing your mobile data. In such a way, you can extend the coverage of your Wi-Fi network by bridging another hotspot to it. If you wish to use the option, activate Wi-Fi sharing in the hotspot settings.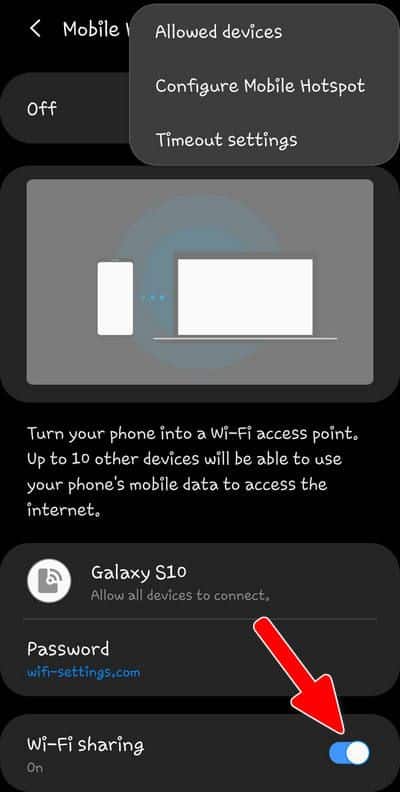 Done!
How to Activate the Mobile Hotspot on Galaxy S10
When everything is configured you can finally use the Wi-Fi hotspot.
Step 1
Switch on your mobile data (or connect to a wireless network if you have Wi-Fi sharing enabled).
Step 2
Activate the Mobile hotspot. There two ways to do it on Android and on Galaxy in particular.
Option #1 (recommended): use the Mobile Hotspot tile in Quick Toggles: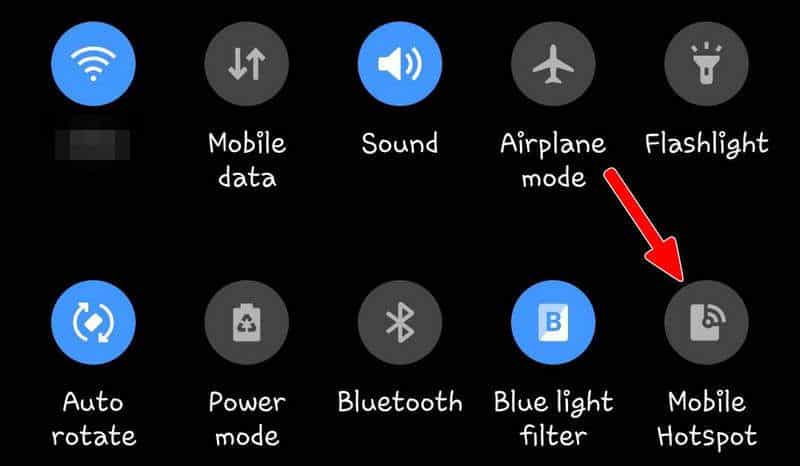 Option #2 (inconvenient): activate it using the toggle in the Settings: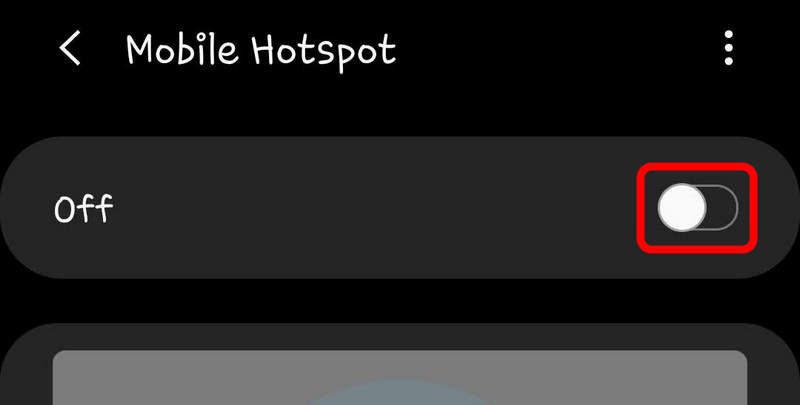 Summary
You need to configure your Mobile Hotspot once to ensure that you are safe and everything is fine. You don't need to do it every time you wish to use it. Once you've set it up, you can instantly toggle it on and off at any time using the corresponding tile in Quick Toggles.
Don't forget that you should either have your mobile data enabled to share your cellular connection or need to be connected to Wi-Fi and have Wi-Fi sharing enabled in the hotspot settings. Otherwise your clients will get No Internet error.
If something is unclear, feel free to ask questions in the comments.