If your iPhone has been updated to iOS 14 (or your iPad — to iPadOS 14 respectively) or higher version you might have seen "Weak security" warning under your Wi-Fi network name. Here is how to fix the problem and actually make the warning disappear from Wi-Fi settings.
What Does the Weak Security Warning Mean?
It means that your Wi-Fi router is configured to use an outdated and vulnerable security mode, such as WEP or WPA.
On top of that, the "Weak Security" warning appears in case if the TKIP encryption is used. If you don't know, being insecure TKIP severely slows down your Wi-Fi speed in addition.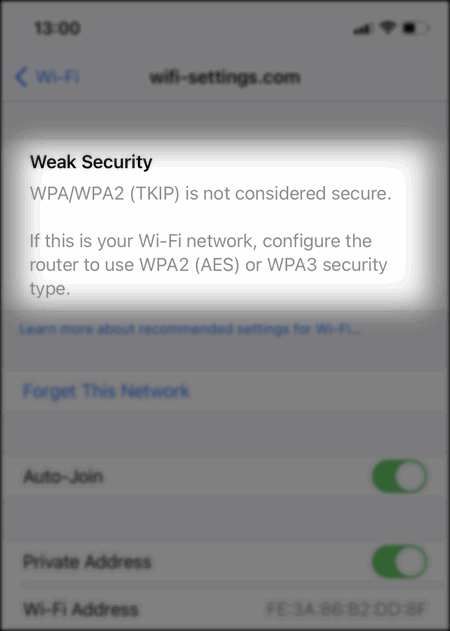 It goes without saying that iOS 14 and iPadOS 14 consider open Wi-Fi hotspots not secure either.
In this case your iPhone will say "Unsecured network".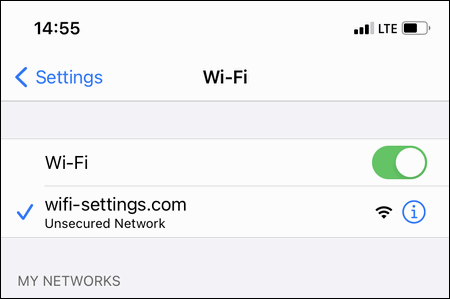 How to Fix the Problem and Make the "Weak Security" Warning Disappear?
The issue is totally related to the wireless router or access point of the specific hotspot. This means that you can get rid of the "Weak Security" warning on your iPhone and iPad only in case if you have access to the router settings page.
Step 1. Log in to Your Wireless Router Settings
The steps to log in to your router settings differ depending on the make and model of your particular device.
Commonly used methods to access the configuration page of your router is typing the IP address (e.g. 192.168.1.1, 192.168.0.1) or the hostname (e.g. tplinkwifi.net) into the address bar of your browser.
Step 2. Find the Wireless Security Settings
As a rule, you need to first dive into the Wireless section and than navigate to the sub-section called Wireless security or something close to that.
Step 3. Switch to WPA2-PSK + AES or WPA3
Finally here is the crucial step: select WPA2 as your security mode and AES as your encryption type. This is why you actually got the "Weak security" warning on your iPhone and iPad.

Note that, you should opt to use "WPA2 only" but not the combined option that is usually called "WPA/WPA2".
However, on some routers' settings you may need to select "WPA/WPA2" and then you will be able to select WPA2 in a separate menu that appears.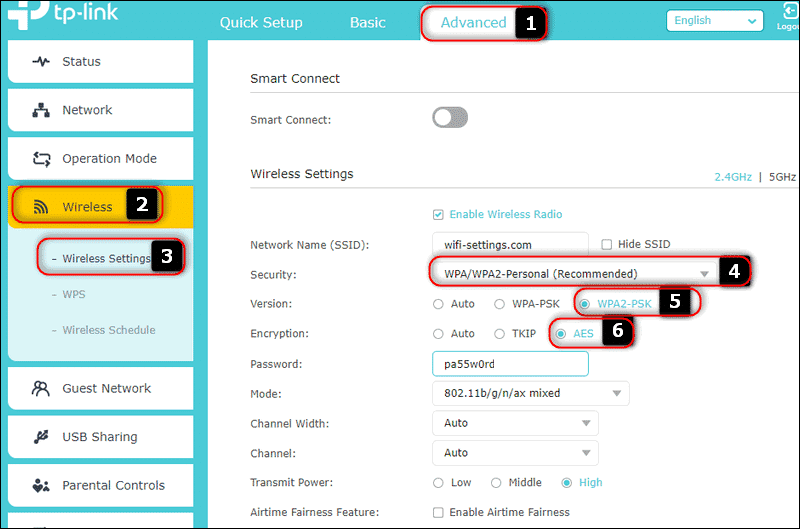 Here is how it looks on LinkSys devices: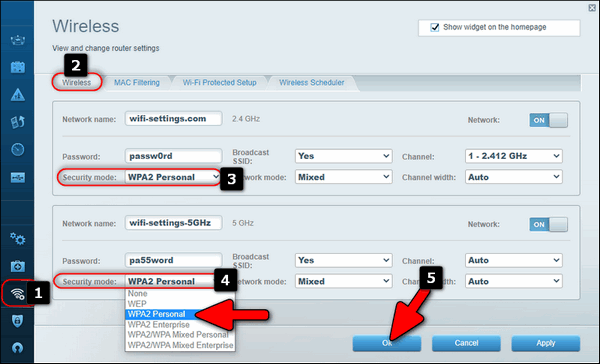 On Asus.
By the way, if your router supports WPA3, you'd better opt to use "WPA3/WPA2-Personal" to make sure all your devices will be able to connect to your Wi-Fi network.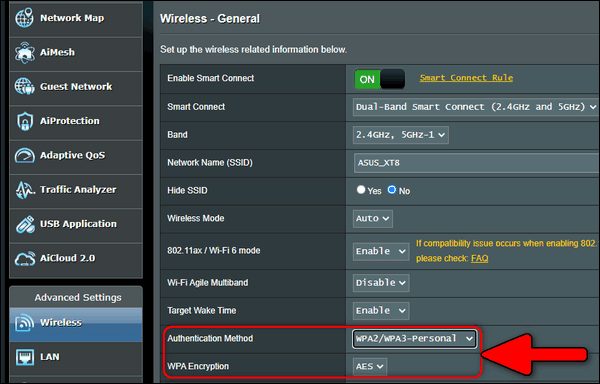 As you can see, the same setting is regarded as Authentication method instead of Security mode.
Actually, this is exactly what I recommend in the article How to secure your wireless router.
Step 4. Save Settings
Don't forget to click "Save Settings" or "Apply" depending on what button you have on your router's config page.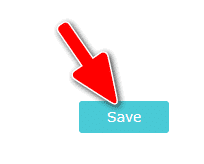 Extra Step
Most modern routers support dual band operation. Therefore, they broadcast at least two Wi-Fi networks: in 2.4 GHz and 5 GHz range.
I recommend that you do the same for each Wi-Fi network on your router. To be more specific, switch both your 2.4 GHz and 5 GHz networks to WPA2-PSK with AES to get rid of "Weak security" warning on your Apple device.
On top of that, don't forget about the guest network or multi-SSID feature if you are currently use one.
Normally, you don't need to reconnect to the network after applying the above unless you've changed the security key as well.
Enable Private Address
Privacy warning is yet another thing you can observe in iPhone's Wi-Fi settings under your active network name.
It means that you are not using a randomized MAC Address for this network connection. The feature is designed to prevent hotspot administrators from tracking you by your real MAC address.
What to do? The answer is simple. Enable it when connecting to a network that doesn't belong to you. Optionally disable if connecting your own router.
First, connect to the hotspot.
Then, tap the network name.
Toggle on the "Private address: option.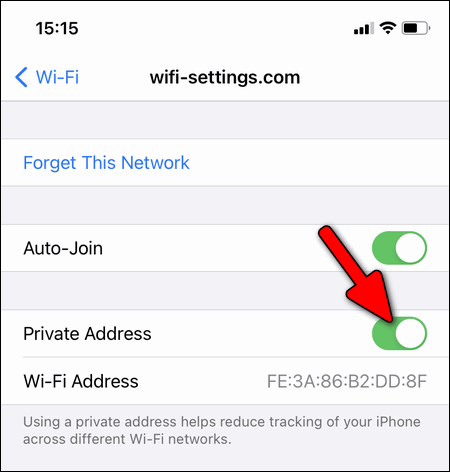 Done!
Disabling the randomized MAC address actually makes sense if you want your router to be able to assign the same IP address to your device every time you connect it to your Wi-Fi. You may need this in a limited number of cases.
Thus, in most cases there is no need in disabling the feature.
What to Do If "Weak Security" Error Persist?
If you have followed all the steps above and resolved the problem in your router settings but the "Weak Security" warning is still displayed under your Wi-Fi hotspot name, here is one more step.
First, go to Wi-Fi settings on your iPhone or iPad, select your network and tap "Forget This Network".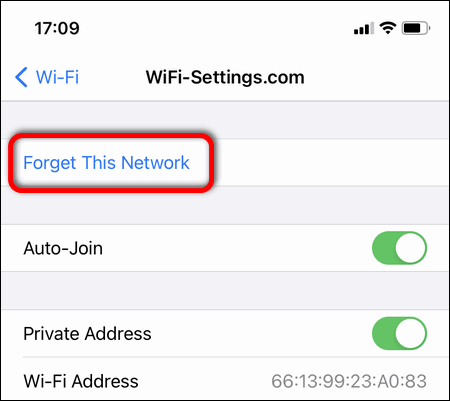 Then, re-connect to it from the scratch by typing your network security key.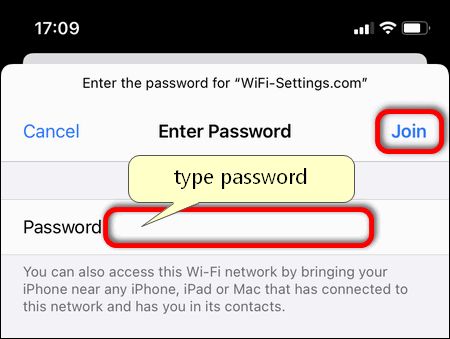 Conclusion
To my mind, Apple is doing the right thing by warning the users in case if their devices happen to connect to insecure Wi-Fi networks.
You have a right to be aware of how secure the current network is and decide whether or not you wish to continue using it.
This especially applies to public hotspots. You never know who is currently connected to the same network and what are their intentions. And this is public hotspots where user accounts and even banking credentials most often got stolen.
Consequently, this warning on Apple devices will motivate network administrators to pay more attention to improving network security of their hotspots.